GemWorld presents . . .
CFMS FIELD TRIP 2002
Southwest of Blythe, California
GEODE and NODULE Beds
Sunday, January 27 to Thursday, January 31, 2002
Field Trip Chairman: Dick Pankey, Pittsburg, California
The ROAD to Camp
Leaving paved road leading to prison compound heading south on Wiley Wells gravel road.
Looking north at about 12.5 miles
south of I-10 Freeway. A Green sign east side of road says"RIVERSIDE CO LINE" and a brown sign for "HAUSER GEODEBEDS AREA" on west side of road
Looking south along side road at campsite. We stayed at a flat dry-camp "desert varnish" area near the signs
The CAMP
Nice flat stable open area with a scenic backdrop.
Plenty of room for everone at this FREE dry-camp area, although no facilities such as hookups or restrooms. However, there were campground areas along the way that did have facilities.
The ATTENDEES at Meal Time

This was a time to meet, share, and see other people as well as eat
Everyone contributed something to eat.
Everyday was like a "potluck" meal
The CAMPFIRES
The sunsets and campfires were really nice. Conversations and information shared. Plenty of wood to burn. However, the cold wind did blow through at times where some had to go indoors.
The SIGN-IN for Field Trips

Everyone who was going to the digs had to sign in. Large trash bags were furnished to pick up trash, cans, bottles, and relics left by others. Prizes such as gemstones were given through a lottery system for those who picked up trash brought to this trailer each day.
The CARAVANS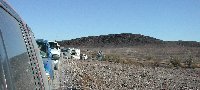 Long caravans were a normal event for these outings.
Nobody was left behind. We watched out for each other.
The COLLECTING AREAS
The HAUSER BED Area
Monday, January 28, 2002

Looking westerly at large parking area on the east side of the Hauser Geode Bed area

Several dogs joined us on these outings.

Myself and about three others dup in a location hidden from this view along a wash 500 feet to the right (north) of the automobile (SUV).

Digs were found along the dirt road and on the monutain sides

While I was scurrying to My proposed dig area, this person was checking out these digs as a possibility.
After leaving the HAUSER BEDS, We went to the CORN FIELD to collect little geodes that looked like kernels of corn and were sometimes yellow on the outside. Pictures were not taken at this area because I got consummed in looking for the little things. Just when We started finding these little geodes in the floor of a dry stream it was time to leave.

The POTATO PATCH Area
Tuesday, January 29, 2002
Digs in background
Some of the cars below
CFMS digger
Looking north from digs
CFMS diggers
CFMS diggers
The Author and his dig
CFMS digger
There were some younger and older participants in our group

The BIG WINDY Area
Tuesday, January 29, 2002
The Parking Area
View from hill
Agate collectors below
Agate was everwhere and there was some nice botryoidal and druzy to be found as well

View of slope and valley
view over ridge looking east

The STRAW BED Area
Wednesday, January 30, 2002
The Parking Area
Looking south from parking area
We are picking Our spots
Must dig deeper
Pose for the Camera.
"Hey, I found one!"
It was miserable for most of Us because it was cold and the strong winds were stirring up the dust into our eyes and face.

"Need some help?"

Psilomelane
Collecting Area
Tuesday, January 30, 2002
Our Field Trip Host digging away
This must be a good find
I think I have it!
The Author found some nice botryoidal and druzy psilomelane after discovering the Mining site and after everyone else had left to go back to camp.
Commercial Mining Area
Looking back at parking area
The SCENERY
No matter how you capture it, it still looks good.
The EVENING SKIES
There was no filters or enhancements made in taking these photos or in putting them on the webpage. These skies were all natural as you see them here ready for the artists palete.
The MORNING SKIES
with Moon Setting in the West
When the sun was ready to come up, the moon was just going down.
The author found this trip to be well organized, adventure some, enjoyable, and memerable. Many thanks and appreciation goes to CFMS and Dick Pankey for a job well done.