Do not use this web page.
Our new web site is
www. LoquatWorld .com
LOQUATS
Also called May Apple,
Japanese medlar,
and/or Japanese plum

The loquats [pronounced: "LOH-kwahts"] are one of the first fruits to ripen in the spring. The tartly sweet, aromatic 1-1/2" golden-yellow to orange fruit that resembles an apricot in size and color usually ripen in mid to late spring. The juicy, crisp flesh is pale yellow and has a delicate, sweetly tart cherry-like or pear-like flavor. It surrounds 1 to 3 seeds that are about the size of apricot pits. The seeds are smooth and rounded but somewhat flatted on one or two sides. The yellow fleshy edible fruits are eaten raw, cooked, or made into jelly. These fruits are favorites among Asian cultures.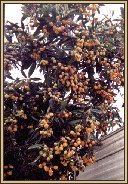 In California, the ripening of the fruit called "loquats"
begins in the last weeks of May and usually ends in late June.



The tasty edible fruit are considered a great delicacy in the Orient. It is closely related to the pear and apple trees...not the citrus tree called "komquat".



We will begin taking orders April 15. Early orders will be filled when the fruit has turned a golden color, usually at the end of April or first part of May depending on the weather. Green loquats are available upon request. The fruit will become less tart as the ripening season progresses. Please indicate whether you want fruit that is more tart or less tart and we will fill the order accordingly. Allow more time for delivery for fruit that is less tart unless the loquat harvest season is almost over. The harvest season usually ends June 1. Orders received after June 1 will be returned unless fruit is still available.



The loquat is referred to as "Nisparo" in the lush areas around Costa Blanca, Spain. They are seen growing in CALLOSA D'EN SARRIÀ (ALICANTE) and the fruit is protected by covering the trees with fine netting. Although the trees were originally grown as ornamental trees in China, Japan, and India, they were not grown for their fruit until about the 1700's. The Jesuits eventually planted them on the Mauritius Islands about 850km east of Madagascar near East Africa. Then they were taken to France in about 1784 and then to Italy in 1812. At about that time a merchant seaman named Captain Roig introduced them to Sagunto's harbour and spread them throughout the Eastern and Southeastern coast of Spain being a part of the Iberian Peninsula.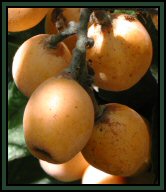 LOQUAT FRUIT

Quantity
Price/lb
Cost
S&H
Total
1 pound box
$8.50
$8.50
$8.50
$17.00
5 pound box
$5.00
$25.00
$13.50
$38.50
Two 5 lb. boxes
$4.00
$40.00
$25.00
$65.00
Three 5 lb. boxes
$3.50
$52.50
$32.50
$85.00
Four 5 lb. boxes
$3.25
$65.00
$42.00
$107.00
Five 5 lb. boxes
$3.00
$75.00
$52.00
$127.00
more than 25 pounds
$2.75
?
email for costs
?

S&H costs shown are for destinations within USA
usually sent via Priority Mail, or 3-day air.
Overnight or 2-day air available at an additional cost.

When requesting two or more 5-pound boxes,
We can have one box sent the first week,
the second box or two the next week, et cetera,
according to your written request.

We normally send out the packages on the first or second day
of each week when available so that they arrive on or before Saturday.



Subject to availability
In 2007, Loquats began ripening on May 8 for picking
and picking season ended on May 29.
In 2004, We were out of fruit for sale on May 19
In 2006, We were out of fruit for sale on May 21
Prices subject to change without notice.
We reserve the right to package fruit in any manner at Our descretion.
May be divided up into more boxes or combined.
We reserve the right to refuse any request or order.





***Important Notice***

The loquats, seeds, seedlings, and trees We provide are from certain trees that are a fruit-bearing mixed variety that is common to the San Joaquin Valley of California. The fruit are of good taste, golden yellow color, roundish or oval in shape, and are normally 1" to 1-1/2" in size. The mature leaves vary in size from 6" to 16" long. If grown in the shade, the leaves are of the larger size.

The availability of the trees at this time is uncertain, depending on size and if reserved. Also, the availability of the seed at this time is uncertain. There has been a demand recently created due to potential use of the leaves for medicinal purposes now in research. However the fruit will be available for sale in the "late-spring early-summer" period.

If We do sell any more trees, fruit, or seed, we would want a signed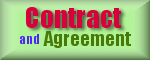 that states that any fruit, seed, or leaves harvested for commercial use and/or for profit, both now and any time in the future, would be reserved to Us and for Us unless or until We give up that right for specified reasons in writing for those certain specified trees produced from our fruit, seed, seedlings, and/or trees provided by Us. We will pay a reasonable amount for the harvested leaves and/or fruit. The amount to be determined at a later date.

If you are willing to sign such an agreement, then We may have some trees, seedlings, or seed available for you to purchase at this time and fruit when in season. Make a print of the Agreement, sign it in blue ink, and send together with payment.






Payment Information
We accept Cashier's check, Postal Money Orders.
We also accept personal checks ,
but allow 15 working days to clear bank processing.
Make checks and money orders payable to "Jack Slevkoff"
We no longer accept credit cards due to credit card fraud and identity theft.
No Western Union and no PayPal.

No Minimum required.
Ignore $50 minimum on ORDER FORM




When fruit arrive, keep them at room
temperature away from sun and moisture.
They last longer and don't become over-ripe
so quickly if refrigerated.
Remove any damaged, discolored, or bruised fruit.




Warning!
Do not eat, chew, or swallow the seeds.
The loquat seed is highly toxic.
Remove the fleshly fruit from the seed
before eating or cooking.





Or you can grow your own


Click on this button






Email: Jack@gemworld.com


Our temporary Post (mailing) location is:

Jack Slevkoff's Enterprises
c/o 4460 West Shaw Avenue, Suite 140
Fresno, Non-domestic
California [Zip Exempt]
usA






Email us at:
Jack@gemworld.com

Our temporary post (mailing) location is:

Jack Slevkoff's Prized Possessions
GemWorld.com Division
c/o 4460 West Shaw Avenue, Suite 140
Fresno, Non-Domestic
California [Zip Exempt]
usA






For those who come in the back door
such as through a search engine,
our web-site (URL) address is
"http://www.gemworld.com"




---

INDEX and LINKS
to our other webpages



INFORMATION
Gemstones | Gemstones | Birthstones | Wedding Aniverseries | FamousPeople Settings

FACETED STONES
Faceted Stones | Beryls | Chrysoberyls | Fire Opals | Garnets | Quartz | Peridot | Rubies and Sapphires | Spodumenes | Spinels | Tanzanites | Topaz | Tourmalines | Zircons

OPALS
Opals | Black | Black Crystal | Boulder | Contra Luz | Crystal | Crystal with Matrix | Doublets | Fire Gray | Gray Crystal | Matrix | Hydrophane | Regular | Semi-black | Semi-crystal | Triplet Opals

OTHER STONES
Cabbed Stones | Carved Stones | Collector Stones | Phenominal Stones | Synthetics

GEM ROUGH
Beryl Rough | Chrysoberyls | Collector Stones | Emeralds | Fire Opals | Garnets | Information | Spinels | Tanzanites | Tourmalines

JEWELRY
Diamond Ring Diamond Ring Pendants Personalized Wedding Bands

MINERAL SPECIMENS
Quartz

SPHERES
Custom and Foreign

ROCK
Polished Rock | Tumbling Rough

BOOKS
Faceting | Gemstones | Tumbling | Carving

CD-ROMS
Tutorial

EQUIPMENT
Bead Mill | Diamond Testers | Info & Index | Flat Laps | Flexible Shaft | Faceting Machines | The Facetron | Facetron Parts | The Titan | The Genie | The Pixie | Slab Saws | Sphere Machines | Sphere Preformer | Spool Polisher | Trim Saws | Single Barrel Tumblers | Ultraviolet Lights | Vibrating Laps

Tumblers
Double Barrel Rotary | Drill-type | Lot-O | Single Barrel Rotary | Triple Barrel Rotary | Vibratory

SUPPLIES
Dia. Discs(Crystalite) | Dia. Discs(Lapcraft) | Dia. Discs(China) | Dia. Drills | Dia. Saw Blades(China) | Dia. Grind Wheels | Dia. Sand/Polish Wheels | Displays and Gem Tray Cases | Dyna Disks | Faceting Accessories | Faceting Kits | Gem Powders | Glue | Grit & Polishing Materials | Information | Lubricants Coolants | Polishing Laps | Tumbling Media | Tumbling Rough | Ultralaps

TOOLS
Cabbing | Faceting | Geology | Jewelry | Rockhound Kit | Gold Panning Kit

SERVICES
Gem Cutting & Polishing | Appraisals | Consignment

HOW TO
Prepare Cast Iron Lap | Prepare Ceramic Lap | Dop | Cut Opals | Treat Opal | Tumble

Don't Go Here!
Been deceived | Status

SHOWS
Tucson Show Guide | Tucson Show Guide 2 | Tucson 2001 | Blythe 1998 | Congress Street Expo 1998 | Quartzite 1998 | Tucson 1998

OTHER PAGES
Banners | Business Cards | Specials | Discounts | Comments | Comments 1998 | Comments 1997 | Comments 1996 | Collecting and Investing | Sponsor | Home

UNRELATED
Antique Gas Signs | California Lottery Collection | Chandelier | Giant Wrenches | Greeting Bags | Links | Loquats | Loquat Trees | Resort Timeshare-Oregon Coast | Resort Timeshare-Tahoe | "Six Queens" Gold Coin | Skull-Water Buffalo | Silver Coins | Search Engines




---
Common Law Copy Right 1996 1997 1998 1999 2000 2001 2002 Jack Slevkoff's Prized Possessions. All Rights Reserved.
We welcome your comments and suggestions! Email them to Jack@gemworld.com.