SCHOONER LANDING
RESORT
TIMESHARE

A prime timeshare is now available for resale
at a very affordable price.


(Click on photos to enlarge)
Schooner Landing is a beachside resort
consisting of 42 units on the beautiful
Central Oregon Coast just north of Newport.

Featured here are fully furnished Cape Cod townhouses. This resort which opened in 1983 has a nice recreation center on its premises. The recreation center has indoor courts for racquetball, basketball, tennis, volleyball and badminton. It also has a billiard room, weight room, indoor pool, sauna, jacuzi, lockers, showers, and dressing rooms.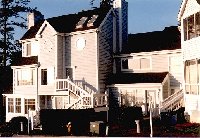 A closer view shows
the elegance and detail of these fine units.
Most of these units have beautiful views of the ocean. The interiors are nicely decorated. Each unit has a whirlpool tub, wet bar, fireplace, color television, VCR, and a full kitchen which also includes a microwave oven.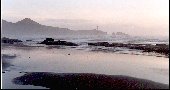 Beach area at low tide
Schooner Landing has its own beach access. The beaches are clean with some memorable views. The sand is great for building sand castles or carving out interesting creatures that appear to come alive from out of the clean sand. Can you see the Yaquina Head Lighthouse in the background? It was built in 1873. On the other side of the lighthouse is Agate Beach where rock hounds search for agates, Jasper, and petrified wood.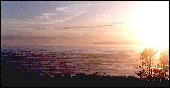 Beautiful Ocean Views against the sunset
Have your camera ready. You never know what each evening will bring. The views from Schooner Landing are spectacular. You may even see whales with your binoculars.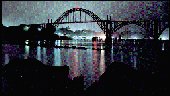 Oregon's Famous Bridges
Bring your camera! There are many famous historic bridges in Oregon that are wonderful to see on your scenic excursions. One of them you see here is in Newport.
There are many things to do, visit, and see in this area.
Some of them are:
Golf
Horseback riding
Undersea Gardens
Ripley's Believe It or Not!
Marine Science Center
Devils Punchbowl
Country Natural Area
Famous historic lighthouses
Shopping (Galleries, Antique Shops, Specialty, Craft, Aquatic, Novelty, and Hobby Shops)
Oregon Coast Aquarium (home of Keiko, the whale)
Tillamook Cheese Factory (60 miles north)
Large casino in Lincoln City (20 miles north)
Factory Store Outlets (20 miles north in Lincoln City)

Snow in Newport
Yes, if you're lucky and come at the right time, you will enjoy the unusual breathtaking scenery the snow gives accent to.

Birds eye view of the beach front condos
Lots of clean private beaches areas with many waves. The famous historic Yaquina Head lighthouse is in the background on the point.

Another beach view from Schooner Landing.
Enjoy a nice stroll. Take a jog along miles of clean beaches. Hear the roar of the waves. Beach comb for treasures, shells, and agates. You may even find a Japanese glass float that was drifting in the ocean for over 40 years.

Explore the tide pools at low tide. You'll find star fish, shell animals, sea urchins, coral, etc.






These time shares have sold for over $12,000 when money had more value.
Now you can own this one for just $8975.00.

Negotiable!




The (Charter membership No. 1-029) ownership is in fee title. Fee title ownership is the same as if you were buying a week of your own house which is normally purchased in fee title. It's for you, your heirs, or assigns forever.

This Phase 1 ownership entitles you to the use of any unit for one week each year. The week is a floating week and can be used any time of the year. Reservations must be made early enough to lock in the particular unit and time you wish to use it.

The maintenance fees are $444 each year for each interval week owned. The maintenance fee covers the following:
Property Taxes
Telephone and Utilities
Front Office/Reservations Wages
Housekeeping Expenses
Payroll Taxes and Insurance
Employee Health Insurance
Repairs and Maintenance
Landscaping/Grounds/Pest Control
Housewares Replacement
Recreational Expenses
Property Insurance
Legal and Accounting
Administrative Expenses and Wages
Management Fees
Interest Expense
Reserves

The owner of this two bedroom, Phase 1 timeshare is entitled to a sleep 6 or 8, two-bedroom, type 1 unit. If you are a member of Resort Condominium International (RCI) or Platinum Interchange (PI), you can trade it for any place in the world as red time. But reservations (based on availability) must be properly made to lock in a prime unit during red time. Red time for this unit is from mid May to mid October. You can call up to 9 months in advance to schedule your Regular Time/Exchange reservation.
| | |
| --- | --- |
| | These units can be rented. The rental rates for this timeshare varies from $170 to $230 per night depending on which unit and time is reserved. |
We just changed our minds for the present
because we need cash immediatly
and are willing to give it away for
$7950
to make a quick sale.


Who, out there in cyberspace, is going to recognize this as a steal, an opportunity of a lifetime, and snatch this one up before someone else discovers it?


This is a Friday to Friday time share. Check-in is after 4PM on Friday. If you snatch this timeshare before March 1, the current week after March 1 We have reserved is yours to use.


If you are interested or need more info,
please contact me by:

email: Slev@ix.netcom.com,

or snail mail.

My Post location is:

Jack Slevkoff
c/o 4460 West Shaw Avenue, Suite 140
Fresno [Non-domestic]
California [Zip Exempt]
usA


Send email to:

---

INDEX and LINKS
to our other web pages



INFORMATION
Gemstones | Gemstones | Birthstones | Wedding Aniverseries | FamousPeople Settings

FACETED STONES
Faceted Stones | Beryls | Chrysoberyls | Fire Opals | Garnets | Quartz | Peridot | Rubies and Sapphires | Spodumenes | Spinels | Tanzanites | Topaz | Tourmalines | Zircons

OPALS
Opals | Black | Black Crystal | Boulder | Contra Luz | Crystal | Crystal with Matrix | Doublets | Fire Gray | Gray Crystal | Matrix | Hydrophane | Regular | Semi-black | Semi-crystal | Triplet Opals

OTHER STONES
Cabbed Stones | Carved Stones | Collector Stones | Phenominal Stones | Synthetics

GEM ROUGH
Beryl Rough | Chrysoberyls | Collector Stones | Emeralds | Fire Opals | Garnets | Information | Spinels | Tanzanites | Tourmalines

JEWELRY
Diamond Ring Diamond Ring Pendants Personalized Wedding Bands

MINERAL SPECIMENS
Quartz

SPHERES
Custom and Foreign

ROCK
Polished Rock | Tumbling Rough

BOOKS
Faceting | Gemstones | Tumbling | Carving

CD-ROMS
Tutorial

EQUIPMENT
Bead Mill | Diamond Testers | Info & Index | Flat Laps | Flexible Shaft | Faceting Machines | The Facetron | Facetron Parts | The Titan | The Genie | The Pixie | Slab Saws | Sphere Machines | Sphere Preformer | Spool Polisher | Trim Saws | Single Barrel Tumblers | Ultraviolet Lights | Vibrating Laps

Tumblers
Double Barrel Rotary | Drill-type | Lot-O | Single Barrel Rotary | Triple Barrel Rotary | Vibratory

SUPPLIES
Dia. Discs(Crystalite) | Dia. Discs(Lapcraft) | Dia. Discs(China) | Dia. Drills | Dia. Saw Blades(China) | Dia. Grind Wheels | Dia. Sand/Polish Wheels | Displays and Gem Tray Cases | Dyna Disks | Faceting Accessories | Faceting Kits | Gem Powders | Glue | Grit & Polishing Materials | Information | Lubricants Coolants | Polishing Laps | Tumbling Media | Tumbling Rough | Ultralaps

TOOLS
Cabbing | Faceting | Geology | Jewelry | Rockhound Kit | Gold Panning Kit

SERVICES
Gem Cutting & Polishing | Appraisals | Consignment

HOW TO
Prepare Cast Iron Lap | Prepare Ceramic Lap | Dop | Cut Opals | Treat Opal | Tumble

Don't Go Here!
Been deceived | Status

SHOWS
Tucson Show Guide | Tucson Show Guide 2 | Tucson 2001 | Blythe 1998 | Congress Street Expo 1998 | Quartzite 1998 | Tucson 1998

OTHER PAGES
Banners | Business Cards | Specials | Discounts | Comments | Comments 1998 | Comments 1997 | Comments 1996 | Collecting and Investing | Sponsor | Home

UNRELATED
Antique Gas Signs | California Lottery Collection | Chandelier | Giant Wrenches | Greeting Bags | Links | Loquats | Loquat Trees | Resort Timeshare-Oregon Coast | Resort Timeshare-Tahoe | "Six Queens" Gold Coin | Skull-Water Buffalo | Silver Coins | Search Engines




---
Common Law Copy Right 1996 1997 1998 1999 2000 2001 2002 2007
Jack Slevkoff's Prized Possessions. All Rights Reserved.

We welcome your comments and suggestions! Email them to Jack@gemworld.com.