GemWorld can provide you with



a closer look at these
Quality
SLAB SAWS
(Click on photos to enlarge)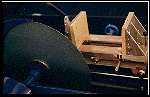 These saws are designed for heavy duty slabbing and quartering of rock chunks.

We believe these are the best slabbing saws for the price.



They have the following special features:


POWERGLIDE HYDRAULIC FEED SYSTEM

Provides total control of the feed system through the use of positive pressure control from 5 to 80 psi. This is the ultimate in professional performance slabbing. There is nothing equal to this in the markretplace and outdates all other types of feed system. It is standard on the 18", 24", and 36" Contempo saws. It cuts faster than any screw feed system. It can cut agate at about 3 square inches per minute and onyx at about 10 square inches per minute. This system also allows you to cut a "starting nitch" by stopping or starting the movement of the vise. With this type of controllability, blade damage and "tweaking" of rock from the vise is virtually non-existent.



"V" GUIDE RAIL SYSTEM

Provides precise non-slip movement of the vise. The V-grooved, ball bearing guide rollers glide the vise carriage smoothly on precision ground, steel V-ways attached to heavy steel channels. The hardened bearings, rollers, and rails are made and set to exacting tolerances. The alignment of the rails are set parallel to the saw blade to an accuracy of approximately .005 for the full length of the blade.



AUTOMATIC SAFETY SHUT-OFF SWITCH

Automatically turns the saw off when the carriage travels a set pre-determined distance using the length adjustment. The saw will also turn off automatically when the hood is raised.



WINDOW

The sturdy lightweight hood has a plexiglass window which permits easy viewing of all saw operations.



SLOPING TANK and SUPPORTING LEGS

The heavy-gauge (3/16" thick) welded-steel plate box not only provides a tank for the coolant/lubricant, it also provides a rugged chassis to support all of the mechanisms. The rugged box together with the strong supporting legs help minimize vibration. The heavy residues sink and settle to the lower end of the sloping tank for easier cleaning and less influence on the upper levels of recycling lubricating oil. A cleanout drain with a cap is built into the lower end of the slopping tank for convenient draining of the tank.



ARBOR

The 1"-diameter one-piece arbor shaft provides the durability and long life needed to make smooth cuts. The arbor bearings are sealed to keep out the slurry of coolant and abrasive waste that forms when materials are cut. The arbor housing is cast aluminum.



VISE

The rigid cast-aluminum vise is easily accessible for loading. It can grip and hold irregular shapes securely throughout the cutting process. The wood faced jaws open extra wide and adjust easily by using a high-leverage vise-compression crank wheel. Has quick release pin and positive screw tightening.



ROLLERS and LEVELING SCREWS

Casters at the bottom of each leg allows for easy maneuverability of the saw. Once in place, leveling screws raises the casters and transfers the weighs of the machine directly to the floor while providing a means for leveling.





3-STAGE FILTER and RECIRCULATING SYSTEM

Moves large volumes of clean oil over the cutting surface to keep it cool and lubricated. It consists of a holding tank with three settling chambers, submersible pump, and a wash hose. The hose makes it easy to wash down the saw with cutting oil. (Can be purchased separately for other slab saws--email us for prices.)


Reliable performance
cut after cut!
Email us at:
Jack@gemworld.com

Our temporary post (mailing) location is:

Jack Slevkoff's Prized Possessions
GemWorld.com Division
c/o 4460 West Shaw Avenue, Suite 140
Fresno, Non-Domestic
California [Zip Exempt]
usA






For those who come in the back door
such as through a search engine,
our web-site (URL) address is
"http://www.gemworld.com"




---

INDEX and LINKS
to our other webpages



INFORMATION
Gemstones | Gemstones | Birthstones | Wedding Aniverseries | FamousPeople Settings

FACETED STONES
Faceted Stones | Beryls | Chrysoberyls | Fire Opals | Garnets | Quartz | Peridot | Rubies and Sapphires | Spodumenes | Spinels | Tanzanites | Topaz | Tourmalines | Zircons

OPALS
Opals | Black | Black Crystal | Boulder | Contra Luz | Crystal | Crystal with Matrix | Doublets | Fire Gray | Gray Crystal | Matrix | Hydrophane | Regular | Semi-black | Semi-crystal | Triplet Opals

OTHER STONES
Cabbed Stones | Carved Stones | Collector Stones | Phenominal Stones | Synthetics

GEM ROUGH
Beryl Rough | Chrysoberyls | Collector Stones | Emeralds | Fire Opals | Garnets | Information | Spinels | Tanzanites | Tourmalines

JEWELRY
Diamond Ring Diamond Ring Pendants Personalized Wedding Bands

MINERAL SPECIMENS
Quartz

SPHERES
Custom and Foreign

ROCK
Polished Rock | Tumbling Rough

BOOKS
Faceting | Gemstones | Tumbling | Carving

CD-ROMS
Tutorial

EQUIPMENT
Bead Mill | Diamond Testers | Info & Index | Flat Laps | Flexible Shaft | Faceting Machines | The Facetron | Facetron Parts | The Titan | The Genie | The Pixie | Slab Saws | Sphere Machines | Sphere Preformer | Spool Polisher | Trim Saws | Single Barrel Tumblers | Ultraviolet Lights | Vibrating Laps

Tumblers
Double Barrel Rotary | Drill-type | Lot-O | Single Barrel Rotary | Triple Barrel Rotary | Vibratory

SUPPLIES
Dia. Discs(Crystalite) | Dia. Discs(Lapcraft) | Dia. Discs(China) | Dia. Drills | Dia. Saw Blades(China) | Dia. Grind Wheels | Dia. Sand/Polish Wheels | Displays and Gem Tray Cases | Dyna Disks | Faceting Accessories | Faceting Kits | Gem Powders | Glue | Grit & Polishing Materials | Information | Lubricants Coolants | Polishing Laps | Tumbling Media | Tumbling Rough | Ultralaps

TOOLS
Cabbing | Faceting | Geology | Jewelry | Rockhound Kit | Gold Panning Kit

SERVICES
Gem Cutting & Polishing | Appraisals | Consignment

HOW TO
Prepare Cast Iron Lap | Prepare Ceramic Lap | Dop | Cut Opals | Treat Opal | Tumble

Don't Go Here!
Been deceived | Status

SHOWS
Tucson Show Guide | Tucson Show Guide 2 | Tucson 2001 | Blythe 1998 | Congress Street Expo 1998 | Quartzite 1998 | Tucson 1998

OTHER PAGES
Banners | Business Cards | Specials | Discounts | Comments | Comments 1998 | Comments 1997 | Comments 1996 | Collecting and Investing | Sponsor | Home

UNRELATED
Antique Gas Signs | California Lottery Collection | Chandelier | Giant Wrenches | Greeting Bags | Links | Loquats | Loquat Trees | Resort Timeshare-Oregon Coast | Resort Timeshare-Tahoe | "Six Queens" Gold Coin | Skull-Water Buffalo | Silver Coins | Search Engines




---
Common Law Copy Right 1996 1997 1998 1999 2000 2001 2002 Jack Slevkoff's Prized Possessions. All Rights Reserved.
We welcome your comments and suggestions! Email them to Jack@gemworld.com.