Tucson 2003
Gem, Mineral, and Fossil shows

Even though most exhibitors return year after year, there will always be someone new or someone missing from the show(s). Even though one sees pretty much the same material year after year, there is always something special and different or certain specimens will be bigger or better. There are always bargains and opportunities found when a dillegent search is made.

We have included some highlights of this years visit.




Tanzanite Specimens





The above two tanzanites are believed to come from Block D of the Miralaney(?) District of Arusha Tanzania. They are currently owned and displayed by 24 year old Justin Dionne. The one on the left is 186 carats and retails for $4500, the one on the right is 282 carats and retails for $5600. Justine started with a tumbler at the age of 7 and started his hardcore mineral collecting at the age of 17. Began selling in Tucson in 1998. innerearth@attbi.com

Many fine specimens can be found at the show.
This purple-blue Zolite is from Tanzania, Africa.
Most tanzanite mined today is of a brown color and is heat treated to the blue color. The stones are heated to temperatures usually ranging from 752&ordmF (400&ordmC) to 932&ordmF (500&ordmC).
(Click on photos to enlarge)




Here are a couple of large well-defined crystal specimens. The one on the left is 119 carats. The one on the right is 93 carats. Both crystals are owned and displayed by Thomas Schneider of San Diego, California. www.tmsgems.com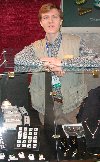 John Dyer
John Dyer, who is now 24 years of age, became interested with gems when he was only 16 years of age and started faceting gems at the age of 17. Last year he won first place in AGTA's Cutting Edge "Flat Faceting" competitiion. This year he received a third place in the same category. What an accomplishment for such a young man.

John says "I love beautiful things; gemstones, and tropical fish." He went on to say "Love cutting special type of material even if it takes a little longer and has more facets." John cuts about 150 to 200 stones per year on the average. The smallest gem he has faceted on his "UltraTech" faceting machine was only 2 mm in size. His largest was 126 carats. His favorite shape is the trillion cut because he finds this type of cut to be exceptionally brilliant.

John's worst unforgetable experience happened when he was faceting a larger red beryl. Keep in mind that this particular red beryl was unusually large and cost him $2,000.00 in the rough. While in the final stages of faceting the stone, it split into three pieces. Just think of the amount of material that was ground away trying to cut the larger stone. He was counting on maintaining the large size stone because such a large faceted stone would have brought a premium for its rarity. Now it is three smaller stones of much less size rarity.




John and his dad have spent much time in Brazil sometimes six months at a time. Some of this time is spent doing missionary work. In years past, John prayed that God would give him a special talent. Yes, God does answer prayer. John's success together with his accomplishments bears witness to his God given talents. John is now experiminting with carving geometric designs combined with faceting, similar to Michael Dybers work. John's latest creative cuts and designs are called "New Optix" and "Dreamscapes." www.finecolor.com


Geode and Nodule Slices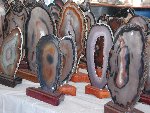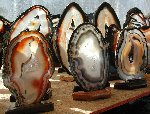 Over the years one can find a lot of slices of nodules and geodes that range in sizes from 2" to 7". But, rarely would one find them 12" to 18" in size. Above are photos of some that are in the 12" to 18" size range.



Fossil Fish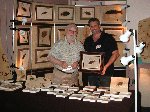 Wayne McGee (on the right) of London, England, is about to purchase a fossil fish from Carl Ulrich (on the left).

Carl, who lives in Kemmerer, Wyoming, has been digging for these fossils and preparing them since 1947. It all starterd when he started tinkering around the Green River Basin area, found a fossil, prepared it and then sold it. Carl stated "I strive for quality, not quantity."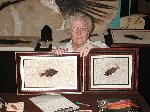 Carl's wife, Shirley, is the one who puts the frames on.

Carved rock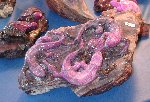 We found these carvings to be of interest
The lizard rock in the left photo is about 20" long. The frog pices is about 6" across.



Paul Downing, Ph.D
Paul Downing (on the left) just released a new book titled OPAL IDENTIFICATION & VALUE published in 2003. This new book is a revised, expanded, & updated version of his original book by the same title published in 1992. Paul is a renowned self-proclaimed "opalholic." He has also written three other books titled Opal Cutting Made Easy, Opal Advanced Cutting and Setting, and Opal Adventures. In 1999, he was inducted into the National Rockhound and Lapidary Hall of Fame. He is also a winner of three AGTA Cutting Edge Awards for opal.


Idar Oberstein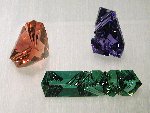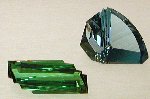 Some nice material and interesting cuts
come from the cutters of famous
Idar Oberstein, Germany

Intricate Carvings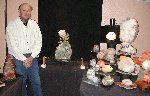 Carvings by Paul Hawkins and Susan Zalkind are intricate, delicate, real looking, and artiscally beautiful. An example of their fine work is seen in the white alabaster rose ($30,000). They used a special alabaster that comes from an old gypsum mine. It took two years to complete the rose. Their work has appeared in the January 2000 issue of Lapidary Journal

They now teach carving in after school or summer programs.

Faceted and Carved Ametrine
Lek Ho, of Bangkok, Thailand, faceted and carved this 202 carat Ametrine into an interesting shape using a special machine. She wants $3232 for the piece. She is currently the General Director of JEWELRY PRO CO., LTD, having two offices in Bangkok, Thailand. leku_yit@hotmail.com


Kunzite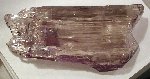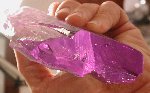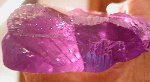 Years ago, I remember rooms full of Kunzite coming from Afghanistan or Pakistan, but nowdays, one can hardly find a large superb piece with good color. However, this year We did find a nice piece of rough from Brazil.

Artistic Carvings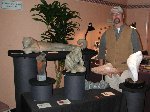 Jeff Schaezle has some nice artistic cavings and carvings that reflect realism.
World's Largest
Scheelite Crystal

This 12" size crystal specimen from China is the world's largest scheelite crystal weighting in at 21 kilos (about 47 pounds).

Until now the former heavyweight champion was a mere 1/5 the size. The asking price of this specimen is $50,000. A Lincoln Copper Penny (US 1¢ coin) is setting on the table for size comparison. julie.chen@andegem.com

Email us at:
Jack@gemworld.com

Our temporary post (mailing) location is:

Jack Slevkoff's Prized Possessions
GemWorld.com Division
c/o 4460 West Shaw Avenue, Suite 140
Fresno, Non-Domestic
California [Zip Exempt]
usA






For those who come in the back door
such as through a search engine,
our web-site (URL) address is
"http://www.gemworld.com"




---

INDEX and LINKS
to our other webpages



INFORMATION
Gemstones | Gemstones | Birthstones | Wedding Aniverseries | FamousPeople Settings

FACETED STONES
Faceted Stones | Beryls | Chrysoberyls | Fire Opals | Garnets | Quartz | Peridot | Rubies and Sapphires | Spodumenes | Spinels | Tanzanites | Topaz | Tourmalines | Zircons

OPALS
Opals | Black | Black Crystal | Boulder | Contra Luz | Crystal | Crystal with Matrix | Doublets | Fire Gray | Gray Crystal | Matrix | Hydrophane | Regular | Semi-black | Semi-crystal | Triplet Opals

OTHER STONES
Cabbed Stones | Carved Stones | Collector Stones | Phenominal Stones | Synthetics

GEM ROUGH
Beryl Rough | Chrysoberyls | Collector Stones | Emeralds | Fire Opals | Garnets | Information | Spinels | Tanzanites | Tourmalines

JEWELRY
Diamond Ring Diamond Ring Pendants Personalized Wedding Bands

MINERAL SPECIMENS
Quartz

SPHERES
Custom and Foreign

ROCK
Polished Rock | Tumbling Rough

BOOKS
Faceting | Gemstones | Tumbling | Carving

CD-ROMS
Tutorial

EQUIPMENT
Bead Mill | Diamond Testers | Info & Index | Flat Laps | Flexible Shaft | Faceting Machines | The Facetron | Facetron Parts | The Titan | The Genie | The Pixie | Slab Saws | Sphere Machines | Sphere Preformer | Spool Polisher | Trim Saws | Single Barrel Tumblers | Ultraviolet Lights | Vibrating Laps

Tumblers
Double Barrel Rotary | Drill-type | Lot-O | Single Barrel Rotary | Triple Barrel Rotary | Vibratory

SUPPLIES
Dia. Discs(Crystalite) | Dia. Discs(Lapcraft) | Dia. Discs(China) | Dia. Drills | Dia. Saw Blades(China) | Dia. Grind Wheels | Dia. Sand/Polish Wheels | Displays and Gem Tray Cases | Dyna Disks | Faceting Accessories | Faceting Kits | Gem Powders | Glue | Grit & Polishing Materials | Information | Lubricants Coolants | Polishing Laps | Tumbling Media | Tumbling Rough | Ultralaps

TOOLS
Cabbing | Faceting | Geology | Jewelry | Rockhound Kit | Gold Panning Kit

SERVICES
Gem Cutting & Polishing | Appraisals | Consignment

HOW TO
Prepare Cast Iron Lap | Prepare Ceramic Lap | Dop | Cut Opals | Treat Opal | Tumble

Don't Go Here!
Been deceived | Status

SHOWS
Tucson Show Guide | Tucson Show Guide 2 | Tucson 2001 | Blythe 1998 | Congress Street Expo 1998 | Quartzite 1998 | Tucson 1998

OTHER PAGES
Banners | Business Cards | Specials | Discounts | Comments | Comments 1998 | Comments 1997 | Comments 1996 | Collecting and Investing | Sponsor | Home

UNRELATED
Antique Gas Signs | California Lottery Collection | Chandelier | Giant Wrenches | Greeting Bags | Links | Loquats | Loquat Trees | Resort Timeshare-Oregon Coast | Resort Timeshare-Tahoe | "Six Queens" Gold Coin | Skull-Water Buffalo | Silver Coins | Search Engines




---
Common Law Copy Right 1996 1997 1998 1999 2000 2001 2002 Jack Slevkoff's Prized Possessions. All Rights Reserved.
We welcome your comments and suggestions! Email them to Jack@gemworld.com.